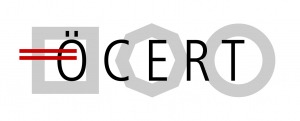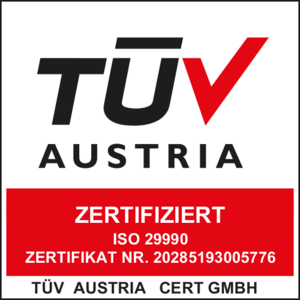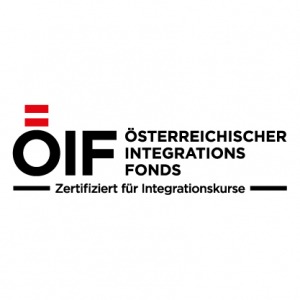 German in Austria (DiÖ) has felt a deep commitment to the quality of its services from the moment it was established. This means adapting to everchanging needs and circumstances, as well as fostering ongoing advancement and improvement for the benefit of learners. With the notion "learner" we would like to emphasize the dialogic and communicative character of the learning process. In our view, learning, understood as a transfer of knowledge, skills and values, is a dynamic process involving all actors in the enterprise – customers and staff.
Our management system is in line with an international standard, scrutinized, continuously monitored, revised and documented. The endeavor to develop continuously is fundamental to our entrepreneurial and learner-oriented way of thinking.
Mission statement, vision and vocation
Since 1978, we have been at the forefront of adult education. The outstanding accomplishments of our learning companions and staff, who we support and promote, are the guarantors of our success. Our services are convincing.  A fair price-performance ratio, high-quality offers, individual advice and personal support are a matter of course for us. This basic attitude has contributed to the fact that an association founded initially only for internal purposes at the present-day University of Klagenfurt has grown into a company that has earned an excellent reputation over the years, both at home and abroad.

Through our quality management, designed for continuous optimization and above all steeped in hands-on experience, together with our know-how, we can offer outstanding solutions even for complex and difficult specifications. The constant underpinning and improvement of our competences and objectives are based on the needs, demands and desires of our learners and our partners as well as on the current requirements. Of the highest priority for us is methodological-didactic further development and the ensuing future-oriented management.

In order to meet these quality requirements at all times, we promote the continuous development of our employees as well as the maintenance and strengthening of motivation and commitment. Open communication, honesty, trust and mutual appreciation give shape to our relationships, both external and internal.

The outstanding performance of our staff and the resulting high quality of our services have contributed to an international reputation. On this basis, we are constantly expanding and improving our offer under the motto: "Europe is growing – language unites."

Scientific expertise and a learning atmosphere characterized by enjoyment and enthusiasm guarantee the best teaching success.

We see ourselves as an institution associated with the university. Our quality policy is based on principles that meet the high standards of academic education and training. At the same time, we are not unbending in the application of these principles, but participate in the dynamics of this educational institution, dedicated to a movement "per aspera ad astra" – as its motto says. In particular, we support the internationalization efforts of the university through linguistic preparation and advisory support for foreign students and promote their cultural and linguistic integration. But the broader public striving for integration and/or language qualification also benefits from these foundations and deserves to be brought to a high level of language competence.  Our goal is to motivate and train the language learners in such a way that they can realize their full potential.

These quality requirements can be met through the ongoing interrelationship between theory and practice. The theoretical input is ensured by our strong connection to the Institute of German Studies, where the fundamentals of linguistics and language didactics are studied and further developed. Graduates of these studies are introduced to practice through job shadowing.

This practice is represented by a pool of experienced language teachers. They are confronted with new findings from university research, can test them in practice and can provide feedback. On the other hand, new staff are made familiar with the experience of many years of teaching. Training and further education are thus intertwined. The aim and result of this interplay of theory and practice is professional training. Quality policy is always personnel policy. The quality of language teaching (and the concomitant elucidation of cultural practice) is inextricably linked to personnel development. The expertise of returning Austrian foreign lecturers is also a precious resource.

Quality assurance but also the setting of quality objectives is carried out by the organs of the association, in particular by the board. Members of the Institute for German Studies are strongly represented on this board. Coordination with the quality objectives and quality policy of the university is ensured by the Rectorate, which sends a member to this board.

We respect the dignity of people. We are convinced that our staff constitutes our greatest asset, because our undertakings would not be possible without their commitment. We have made it our goal to have creative, committed and dedicated co-workers and we achieve this by involving them in decision-making processes, giving them responsibility, by offering them the opportunity to contribute their expertise and to act largely autonomously and independently, and by creating appropriate work surroundings.

We are a customer-oriented company whose economic orientation is based on a relationship of trust and cooperation with customers, partners and suppliers. We strive to provide the best possible service to every customer and it is our concern to ensure the highest possible customer satisfaction by always striving to meet the individual needs of our customers and to provide them with the appropriate support.
Our understanding of quality management
As customers, the focus is always on the learners.

 

Involvement of the entire staff

The competence and commitment of the co-workers in all areas make an essential contribution to the achievement of our company goals.

Willingness to continuously improve

The continuous improvement of our organization in all areas is a constant concern for us, as is the total willingness to make the appropriate adjustments to the necessary extent and with due urgency.